En los últimos días ambos partidos se habían enfrentado por convocar a una votación para reemplazar a Edelstein, e incluso la oposición había dicho que si no podían tener el cargo, las negociaciones sobre un gobierno se terminarían.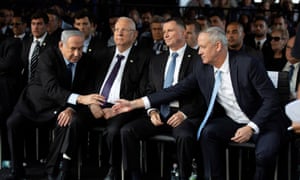 Fuerzas políticas israelíes allanan camino para formar gobierno
Jerusalén, Mar. 26 (Notimex).- Benny Gantz, líder del partido de oposición israelí 'Azul y Blanco', fue elegido hoy como orador de la Knéset dentro del supuesto acuerdo con el primer ministro israelí, Benjamín Netanyahu, para recibir el apoyo del bloque de derecha y agilizar la formación de gobierno.
Gantz fue votado con el respaldo de 74 parlamentarios, 18 en contra y 28 abstenciones, pero de acuerdo con The Times of Israel, se espera que renuncie cuando se definan completamente los detalles para un gobierno de unidad con el partido gobernante 'Likud' de Netanyahu.