Democracia Participativa
Visto: 59
The United States is developing a new policy of approaching the former Soviet republics of Central Asia in response to their manifest concern caused by Chinese and Russian hegemonism. In addition, nurturing new friends in that region can contribute to a more stable Afghanistan and some level of cooperation in the face of the Iranian threat. In fact, Washington views Uzbekistan as an emerging leader in pushing for a peace deal in Afghanistan. Nevertheless, Russia has significant influence in Central Asia through "soft power". Russia is looked at as a political model by many Central Asian governments and a legislative trend-setter. After the election of Donald Trump, an acute domestic political crisis began in the United States (strong disagreements between him and the Democratic Party), so Central Asian foreign policy direction waned during part of the last three years. That is not so any longer. More recently, Secretary of State Pompeo is conducting a vigorous policy of renewed friendship in the region."
A New Era of Strategic Partnership:
The US Engages to Find Opportunities in Central Asia
Central Asia will generally welcome —and want— U.S. attention, but will want a degree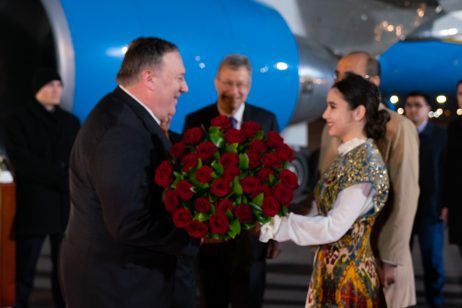 Sec. of State Pompeo being received in Kazakhstanof circumspection.
Taskent, Feb.14.– U.S. Secretary of State Mike Pompeo's early February visit to Kazakhstan and Uzbekistan marks a notable achievement for Central Asia: The United States is keeping an active eye on the region. An increased number of visits to the former Soviet republics has occurred in recent years, with U.S. officials voicing interest in strengthening relations.
Add a comment
Leer más...